Mini English-Polish Dictionary
English Word/Phrase
Polish Word/Phrase
Pronunciation (approx)
COURTESY
Please
Proszę
Proshe
Thank you
Dziękuję
Dschenkuye
Excuse me
Przepraszam
Psheprasham
Sorry
(same as above)
(same as above)
GREETINGS
Good morning
Dzień dobry
Dschen dobree
Good evening
Dobry wieczór
Dobree vecher
Good night
Dobranoc
Dobranots
Good-bye
Do widzenia
Doh vitsenya
ASKING for HELP
Excuse me
Przepraszam
Psheprasham
Do you speak English?
Czy mówisz po angielsku?
Tshi moovish po angyelskoo?
Could you help me?
Czy możesz mi pomóc?
Tshi mozhesh me pomoots?
Yes
Tak
Tak
No
Nie
Nye
I'm sorry
Przepraszam
Psheprasham
I do not speak Polish
Nie mówię po polsku
Nye moovye po polskoo
I do not understand
Nie rozumię
Nye rozoomye
Repeat, please
Proszę, powtórz
Proshe, povtoosh
Please speak more slowly
Proszę, mów wolniej
Proshe, moov volnyey
Where is ...
Gdzie jest ...
Gdzhie yest ...
Draw the way to ... please
Którędy do ...
Ktoorehndy doh ...
PLACES
airport
lotnisko
lotnisko
train station
dworzec kolejowy
dvozhec koleyovy
bus stop
przystanek autobusowy
pshistanek autobusovy
post office
poczta
pochta
hotel
hotel
hotel
store/shop
sklep
sklep
city center
centrum miasta
centrum myasta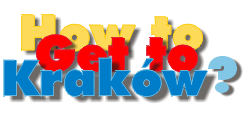 You can reach Kraków by:

* * * * *

DIRECT FLIGHT TO KRAKÓW



There is an international airport Balice in Cracow. Balice has direct connections to Amsterdam, Berlin, Bologna, Birmingham, Bristol, Brussels, Budapest, Chicago, Cologne/Bonn, Dortmund, Dublin, Edinburgh, Frankfurt, Gdansk, Glasgow, Hamburg, Liverpool, London, Manchester, Milan, Munich, New York, Oslo, Paris, Prague, Reggio di Calabria, Rome, Stuttgart, Tel Aviv, Torino, Vienna, Warszawa and Zurich. (see current flight schedule). The flights to Cracow are operated by the Polish Airlines LOT, Lufthansa, British Airways, Austrian Airlines, Swissair.

* * * * *
INTERNATIONAL TRAIN OR BUS
It is also possible to reach Cracow by an international train or bus. There is a lot of connections from different European cities.

As heavy construction is going on at the central railway station in Cracow, and no public transportation is available in the vicinity, we recommend you the following way to get to your hotel: after getting off the train, you should go up (or take a lift) and take a taxi on the upper level of the railway station. For example: a taxi to the Novotel-Bronowice hotel costs about 5-6 Euro, at nights can be more.

* * * * *

FLIGHT TO WARSZAWA



There is an international airport Okecie in Warszawa, located about 10 km from the center of the city. Okecie has a direct connections to Amsterdam, Athens, Barcelona, Beirut, Berlin, Bratislava, Brussels, Bucharest, Budapest, Chicago, Cologne / Bonn, Copenhagen, Dublin, Duesseldorf, Frankfurt, Geneva, Hamburg, Helsinki, Istambul, Kaliningrad, Kiev, London, Lvov, Lyon, Madrid, Manchester, Milan, Minsk, Moscow, Munich, New York, Nicea, Odessa, Oslo, Paris, Prague, Riga, Rome, Sofia, St.Petersburg, Stockholm, Tallinn, Tel Aviv, Toronto, Tunis, Vienna, Vilnius, Zagreb, Zurich, as well to some others airports. (Warsaw Frederic Chopin Airport timetable).

To reach Cracow from the ariport OKECIE you can:
take domestic flights (departure from Warsaw to Krakow)
take a train

There are many trains (Inter City and Express) from Warszawa to Cracow and from Cracow to Warszawa daily in the train summer timetable.

The Central Railway Station in Warszawa is located about 10 km from the airport Okecie. We recommend you to take Airport City bus (avoid taxis in Warszawa - they are very expensive for foreigner!)

* * * * *
BY CAR