Laboratory of Visual Techniques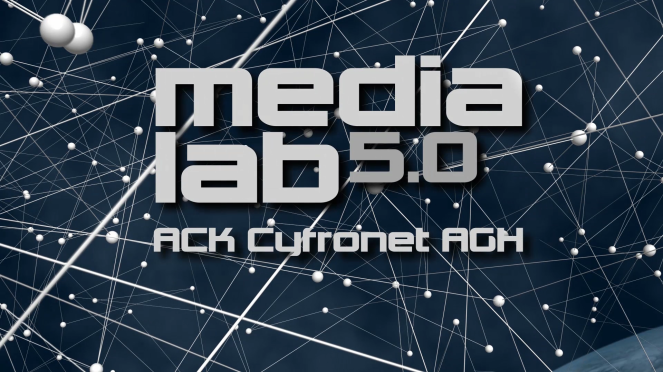 Laboratory of Visual Techniques (Media Lab 5.0) is a film and television studio whose main task is to produce materials documenting and promoting the achievements of ACC Cyfronet AGH.
The popular science and training films and TV programs that we make show the results of research work carried out by the users of Cyfronet's computing infrastructure.
The Laboratory hosts workshops on journalism, the art of cinematography, sound production, editing, computer graphics and television studio operation. It is also a place of research in vision technologies, acoustics and online transmission techniques.
The laboratory is a film and television studio with an area of approximately 100 sq.m., equipped with a grate with lighting, sound system, with an artificial horizon and scenery. The studio is connected with an auditorium for about 50 people. The studio is also connected with the control rooms of: VISION and LIGHT (with stations of: adjustment of camera tracks, vision realization, recording and playback, computer graphics and light), SOUND with the Yamaha LS 9 console and LECTOR. There are two ASSEMBLY ROOMS with computers equipped with Adobe CS6 software in the Laboratory. The laboratory has Panasonic AG-HPX 371 cameras (3 pcs.) and other film and television equipment for image, light and sound production in studio and outdoor productions.
The studio cooperates with professional creators and producers as well as students of Krakow's universities.
The films made by MediaLab 5.0 can be viewed, among others:
Contact: Jacek Przybylski, j.przybylski [at] cyfronet.pl